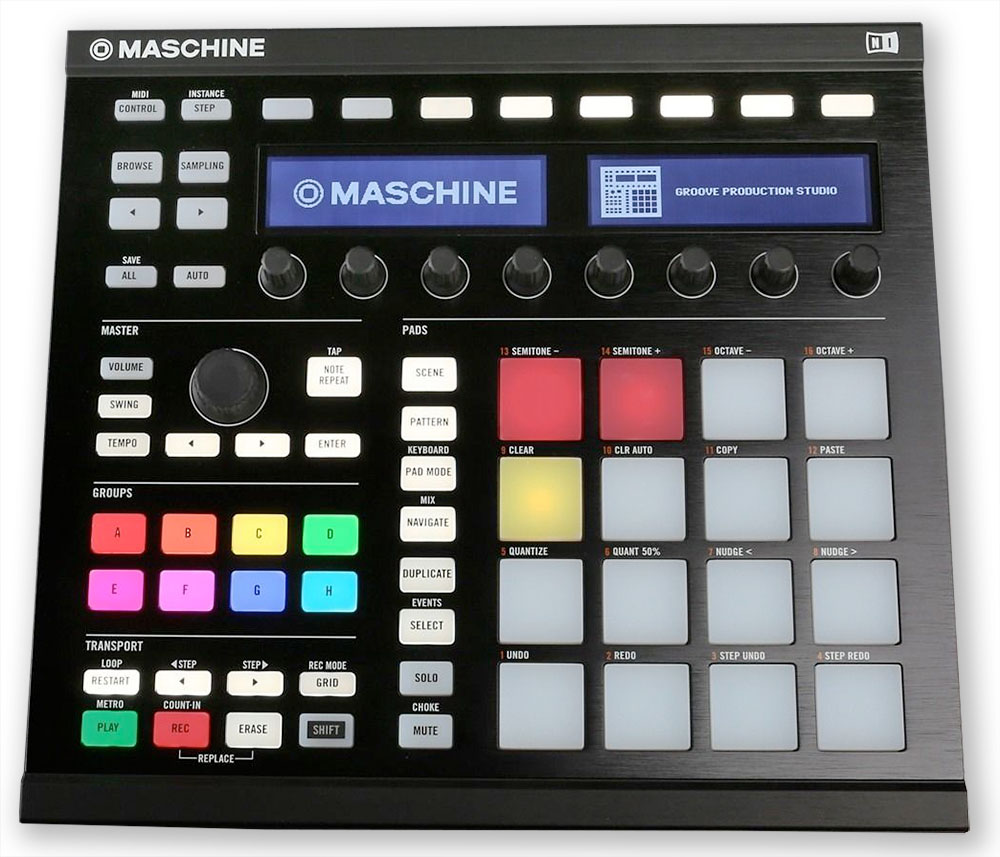 Will transfer software license from Native Instruments. Asking $600, or make an offer (or trade) at sale@helveticavstimes.com.
Description from Native Instruments:
Easily browse, load, tweak, play, arrange, and automate all sampler, plug-in and effect parameters
Control and sequence all of your external hardware instruments, or switch to MIDI mode to control other software
Multicolored pads allow you to assign colors to the groups, sounds, patterns, and scenes, and see the pads and group buttons light up in the same colors
Pads feature increased sensitivity for much more precision
The redesigned Master section allows you to select modes with the toggle buttons and click through values without the need to look at the screen
Create and perform fast with MASCHINE – the groundbreaking groove production studio combining the power and flexibility of software with the tactile immediacy of hardware. Its pattern-based sequencer, high-performance sampler, incredible suite of pro studio instruments and effects, exemplary drum synths, and acclaimed sound library deliver a complete system for fast, professional groove production.
The Master section has been redesigned in the NATIVE INSTRUMENTS MASCHINE MK2. Control volume, tempo, and swing with the new multifunction master push encoder – select modes with the new toggle buttons and accurately click through values without having to look at the screen or display. Navigating and scrubbing are much easier, and changing note pitch and detailed tweaking becomes extra-precise thanks to the encoder's superb physical response. Now with 47 white, backlit click-buttons and colored transport controls, the NI MASCHINE MK2 provides a wealth of physical and visual excitement for intuitive beat making.
Eliminate your mouse! Easily browse, load, tweak, play, arrange and automate all sampler, plug-in and FX parameters straight from the hardware
MIDI mode provides control of other software
Multi-colored pads to color code groups, sounds, patterns and scenes
Includes Komplete Elements
Arrange
A clip-based pattern sequencer means your ideas come together fast. Edit patterns, nudge notes, change velocity, record modulation, and more.
Scenes
Build or sketch entire tracks with scenes. A scene is a flexible collection of groups and patterns. Scenes let you structure a track easily, and are essential for live performance. Create scenes for intro, outro, main groove, variation groove, and breakdown, then trigger scenes live as required.
Drum Synth
Create your own perfectly-tuned electronic and acoustic drum sounds in truly peerless quality. Five monophonic drum plug-ins built exclusively for Maschine 2 give you any percussive sound you need. All fully tweakable, automatable from the hardware, and built with NI's acclaimed DSP expertise.
Sampler
Slice your samples with laser-like precision. Choose the technique that fits you best with four different modes: Detect, Grid, Split, and Manual. Assign slices to the pads automatically and play them just like you would a drum groove or melody.
Supreme Sounds Inside
Get inspired by over 22 GB of sound. Create your own drums with sonically-outstanding drum synths, and dial-in 25 pro-grade effects directly from the hardware. Plus, you get Komplete select – a premium selection of 10 Komplete Instruments and Effects.